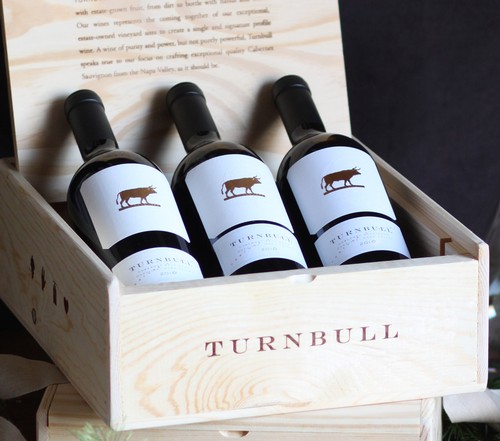 2010 Single Vineyard Box Set
Members, purchase your box sets here.
Each 3 bottle box set includes:
One 2010 Amoenus Vineyard Cabernet Sauvignon
One 2010 Fortuna Vineyard Cabernet Sauvignon
One 2010 Leopoldina Vineyard Cabernet Sauvignon
2010 was a seminal vintage for Turnbull. Not only was this the vintage of our first 100-point, perfect score from Robert Parker and the Wine Advocate, but it was also the first time we earned widespread recognition for the very thing we had been quietly mastering for 30 years: taking a dirt-to-bottle approach to honor the tradition of making wines of intention and exceptional quality, as they should be.
It is with great pride and pleasure that we open the library to our Membership, to introduce a limited, re-release box set of our 2010 single-vineyard Cabernet Sauvignon. Each bottle in this three-bottle set represents one of our three famed estate vineyards – Amoenus, Fortuna, and Leopoldina; for collectors and oenophiles alike, this is a quintessential showcase of the terroir-driven, wines-of-place that define Turnbull.
Take advantage of the opportunity to own a piece of this storied vintage and enjoy these wines while they are in their prime.
praise for our 2010 single vineyard cabernet sauvignon
"The 2010 Fortuna Vineyard is perfection! This extraordinary wine offers up notes of creme de cassis, graphite, truffles, blueberries and blackberries as well as a colossal mouthfeel with no sense of heaviness, layer upon layer of fruit and glycerin, astonishing purity and a finish that lasts 50 seconds. A magnificent effort that should turn out to be one of the great modern classics of Napa Valley, it should age effortlessly for two to three decades. Readers should check out Turnbull Wine Cellars without delay."
-Robert Parker, 100 points
"The 2010 Leopoldina Vineyard Cabernet Sauvignon, which comes from the volcanic red soils so prevalent in Oakville, exhibits brilliantly sweet creme de cassis, Christmas fruitcake, spring flower, forest floor, blue, black and red fruits, and subtle background oak characteristics. The finish is, again, 45-50 seconds. This full-bodied, modern day classic is strikingly rich and very young, so give it 5-7 years to achieve fully maturity, and drink it over the following 20-30+ years."
-Robert Parker, 96+ points
"The only site not in Oakville is the 2010 Cabernet Sauvignon Amoenus Vineyard from Calistoga. It possesses the lowest alcohol, 14.1%, of these three offerings. Displaying none of the rusticity or gritty tannins often found in fruit from the Calistoga AVA, it offers wonderful suppleness, blackberry and forest floor notes, medium to full body, and a rich, pure style that is still young and unevolved. This 2010 is accessible now, but will be even better in 5-6 years, and should last two decades or more."
-Robert Parker, 92+ point rating