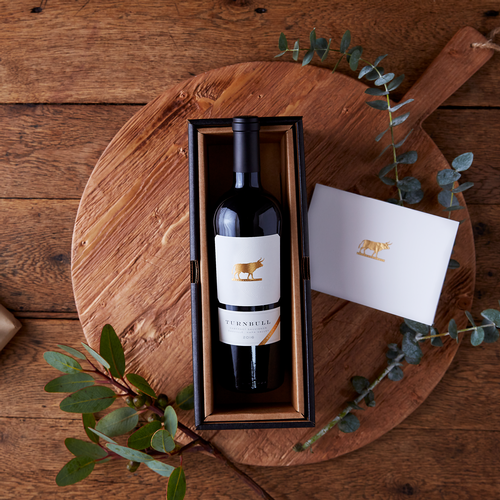 2016 Oakville Reserve Single-Bottle Gift

Behind a gift of Turnbull is a gesture of meaningful intention that will resonate with any lucky recipient. As your friends, family, or colleagues experience the moment of enjoyment that comes with a glass of delicious, thought-provoking wine, therein lies the real gift: a moment of pause from the everyday that they can share with the ones who matter most.
Presented in a stunning single-bottle box, the gift of 2016 Oakville Reserve is one such wine to inspire these precious moments.
True to the resonant character of the 2016 vintage, our 2016 Oakville Reserve exudes verve and freshness throughout. Bold aromas of dusted blackberries and toasted Bermuda Cedar surrender to tertiary tones of bright cherry compote, transporting the senses to broad brushstrokes of the darkly brooding fruit to come. On the palate, ripe black and red berries pirouette in flashes, building momentum through pixilated tannins to reveal textural finesse and freshness that persists all the way through the dynamic finish.
Ground Shipping and an optional, complimentary gift note are included with all official Turnbull Gift Set purchases. Leave your note in the 'Gift Message' section at checkout.
Members, please note: preferred member pricing does not apply, as the listed price reflects a built-in discount.
If you have any questions regarding shipping, do not hesitate to call us (707-963-5839) or email Megan with any shipping questions.
winemaker peter heitz on oakville reserve
"This bottling is the pinnacle of what Oakville represents and tastes like each vintage. A barrel selection of the finest parcels of our estate vineyards, we craft this wine in a classic style, to speak to the truest expression of the place where we farm."
praise for 2016 oakville reserve
"The 2016 Cabernet Sauvignon Oakville Reserve is another stellar wine in this range. Aside from being absolutely delicious, the Reserve offers superb quality for the money, especially by Napa Valley standards. Black cherry, chocolate, leather, smoke, spice and menthol are all generous in the glass, with the textural breadth that is such a signature of Eastern Oakville very much on display. This ample, inviting Cabernet will drink well with minimal cellaring."