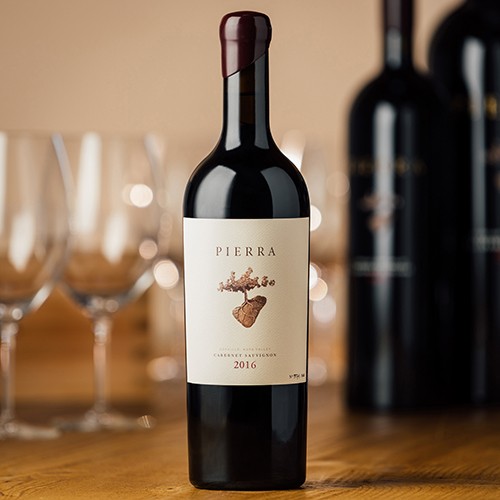 2016 Pierra Cabernet Sauvignon
From a single vineyard block atop the astoundingly steep, rocky peak of our Leopoldina Vineyard, we present our 2016 Pierra Cabernet Sauvignon.
Resolute in its depth and otherworldly elegance, 2016 Pierra enchants with delicate tones of dark cherry, creamy cassis, warm spices, and baking chocolate. At its core lies an ethereal purity that transcends, weaving together a narrative of time and place that pinpoints the singular, rugged beauty of its undeniably unique terroir.
This is our smallest production, 100% Cabernet Sauvignon, and the last vintage release of its kind until the Fall of 2021 when our 2018 Pierra is ready for you to collect and enjoy. Don't miss this opportunity to experience an extraordinary piece of single-block, single-vineyard terroir before it sells out.
*Enjoy complimentary Ground Shipping on your purchase of three bottles or more.
Praise for 2016 Pierra
"Deep garnet-purple colored, the 2016 Cabernet Sauvignon Pierra is a little broody to begin, unfurling to reveal gorgeous Black Forest cake, warm cassis, dried mulberries and preserved plums scents with touches of Indian spices, lavender, black olives, unsmoked cigars and fertile loam plus a waft of cardamom."
-Lisa Perotti-Brown, Robert Parker's Wine Advocate. 96+ points.
"Even with all of its intensity, the Pierra retains considerable detail and nuance. The hillside vineyards in Eastern Oakville are some of the best spots for growing Cabernet Sauvignon in Napa Valley, as the Pierra (and other wines in this range) make abundantly clear."
-Antonio Galloni, Vinous. 97 points.