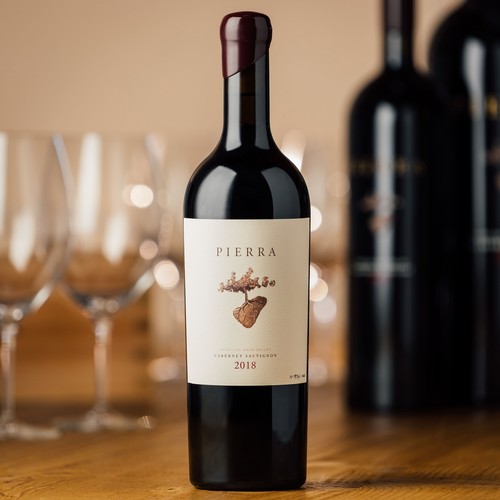 2018 Pierra Cabernet Sauvignon
Members: Click here to log in to your account. To join our Membership, click here.
The story of Pierra returns with the long-awaited release of our 2018 Vintage bottling.
We farm this 100% Cabernet Sauvignon from the steepest, most rugged blocks of our Leopoldina Vineyard, perched high atop the Western-facing slope of the famed Oakville Bench. From first light to the last ray that sets behind the Mayacamas Mountains to the West, these grapes enjoy unparalleled sunshine and lengthy hangtime on vine, allowing for perfect ripeness.
The great challenges of harvesting this steep, rocky slope (thank goodness for sleds) results in the most exquisite reward: a wine—unmatched in quality and flavor—that so gracefully reflects the superior terroir and fruit we are lucky to farm.
Leopoldina Vineyard's stunning terroir and delightfully sun-drenched fruit drive 2018 Pierra in a way unlike any vintage before it. Hedonistic aromatics of black cherries, blackberries, and cassis meld seamlessly with back currents of red plums and red cassis, accentuating freshness and lift. Soft yet voluptuous tannins course across a palate defined by undeniable structure and texture, as roasted sage, cedar, and cigar box tones add to the intrigue, tying together a stunning picture of Pierra.
The 2018 Pierra is the most classic and fine example of its forbears as we've ever seen, and we look forward to watching its story continue to unfold over the coming decades.
Only 48 cases of this exquisite wine exist. Don't wait another moment to access your 6-bottle allocation
praise for 2018 pierra
"Displaying a deep garnet-purple color, the 2018 Cabernet Sauvignon Pierra bursts from the glass with bold notions of blackcurrant cordial, plum preserves, chocolate-covered cherries and mulberries, giving way to an emerging undercurrent of candied violets, cedar chest, unsmoked cigars and Indian spices with a waft of fragrant earth. The full-bodied palate is chock-full of taut, muscular black fruit layers, supported by a rock-solid foundation of firm, grainy tannins and bold freshness, finishing with epic length and depth. While delicious and certainly approachable right now, it is a little closed and tightly wound at this stage, needing a good 4-5 years in bottle to truly unlock its latent power."
-Lisa Perotti-Brown, Robert Parker's Wine Advocate. 98+ points.
"The 2018 Cabernet Sauvignon Pierra is a barrel selection from Leopoldina. Rich and heady in the glass, the Pierra takes all the signatures of this rugged East Oakville site and dials up the volume a few notches. Even with all of its intensity, the 2018 retains so much energy and freshness. Inky, red-toned fruit, blood orange, espresso, spice and star anise all build in the glass. Exotic and opulent, the Pierra has so much to offer. Sadly, there are just two puncheons (1,000 bottles) to go around."