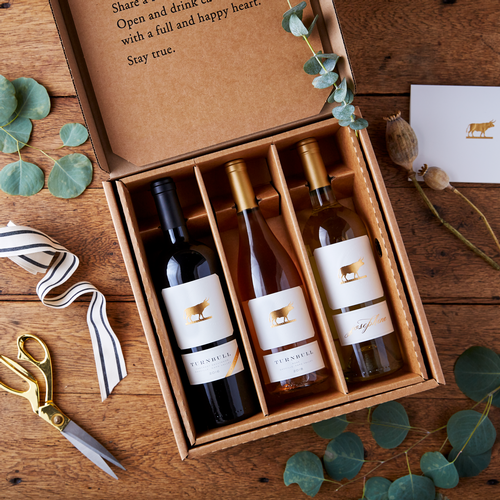 Members-Only Black Friday Set

One bottle of 2016 Oakville Reserve Cabernet Sauvignon, one bottle of 2018 Rosé of Cabernet Franc, and one bottle of 2018 Josephine Sauvignon Blanc. Need we say more?
We saved five cases of our sold-out 2018 Rosé in anticipation of building a gift set complete with the works to delight and impress any wine lover on your list or at your holiday table.
Only 60 sets exist. This perfect trio will sell out quickly - get yours before it's too late.
Due to the limited quantity of this gift set, there is an allocation of three sets per Member. Ground Shipping and an optional, complimentary gift note are included with all official Turnbull Gift Set purchases. Leave your note in the 'Gift Message' section in checkout.
To learn more about our Membership, click here.
a note on the wines
2016 oakville reserve cabernet sauvignon
Bold aromas of dusted blackberries and toasted Bermuda Cedar surrender to tertiary tones of bright cherry compote, transporting your senses to broad brushstrokes of the darkly brooding fruit to come. On the palate, ripe black and red berries pirouette in flashes, building momentum through pixilated tannins to reveal textural finesse and freshness that persists all the way through the dynamic finish.
2018 rosé of cabernet franc
Presenting an effortlessly fresh and delightfully crisp wine blushing with flavor: our 2018 Rosé of Cabernet Franc is finally here, for a limited time only. Wisps of peach blossoms, guava, and red fruit compel the first sip to magnificent flavor. Early summer strawberries, blushing with ripeness, and wild mountain watermelon dance along the palate with a beautiful balance of effortless freshness and delightful crispness.
2018 josephine sauvignon blanc
2018 Josephine beguiles with guava, pineapple, and passion fruit tones that fold into rich layers of texture and width expressed in lush creaminess and stunning crispness. This, undoubtedly, is one of our best expressions of Josephine to date.