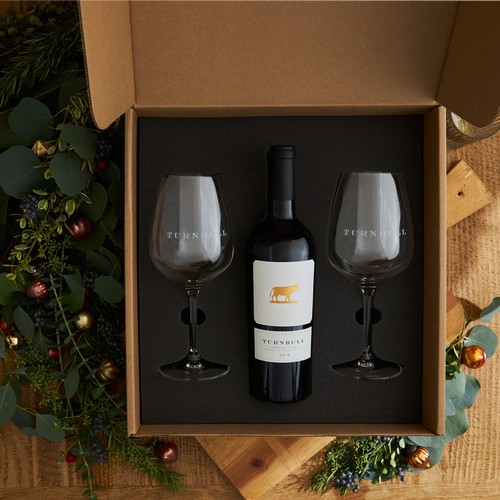 Cabernet Franc Cheers Set
Though we have long been known for the sublime character and quality of our Cabernet Sauvignons, among those "in-the-know", our estate-grown Cabernet Franc has developed its own devoted following.
From the hallowed vineyard rows of our Fortuna and Leopoldina estate vineyards in Oakville to your own holiday tables, we invite you to spread unmatched joy with this sophisticated and sought-after wine. Paired with a set of thoughtfully designed, "Turnbull" etched Riedel glasses for the ultimate sensory wine tasting experience, our Cabernet Franc Cheers Set is the perfect gift to set the tone for an endlessly delightful holiday season.
∙one bottle of 2019 oakville cabernet franc
∙two "turnbull"-etched riedel extreme crystal glasses
Roasted sage, juniper berry, and flashes of rosemary captivate the senses, drawing the nose to deeper tones of dusty blackberries and brooding plums. Whispers of nostalgia envelop the mid-palate, as resonant dark fruit tones mingle with echoes of air-cured tobacco and well-seasoned cigar box. This wine embodies the perfect symphony of brooding black fruit, delicate herbs, and a crescendo of savory flair, making this a quintessential and stunning Cabernet Franc.
Enjoy $20 flat-rate ground shipping (complimentary for Members) and a complimentary gift note with each Turnbull Gift Set purchase. Be sure to add your complimentary gift note to cart and leave your personalized message in the 'Gift Message' section at checkout.
Members, please note: the listed price reflects a built-in discount.
please consult our holiday shipping deadlines and important shipping information, here. in anticipation of increased delays this holiday season, we encourage you to place your order as early as possible.

Orders placed after 12:00 pm PST Friday-Sunday will not be processed or shipped until the following Monday.
For orders shipping via Ground, we estimate a delivery window of up to 10-12 days, depending on your order destination.
For orders shipping via 2-Day Air, we estimate a delivery window of up to 3-5 days.
We encourage you to order as early as possible and, whenever feasible, to upgrade to 2-Day Air shipping.
We work with FedEx and UPS to safely ship your wines, and you may select from your preferred carrier at checkout. Please note, FedEx and UPS are experiencing unprecedented and indefinite delays nationwide due to higher volumes, shorter staffing, and supply chain challenges. Once your order is in the hands of your selected carrier, we do not have control over their timelines or delays for delivery. In anticipation of increased delays this holiday season, we will adhere to strict shipping deadlines to ensure timely delivery of your wines to enjoy with family and friends.