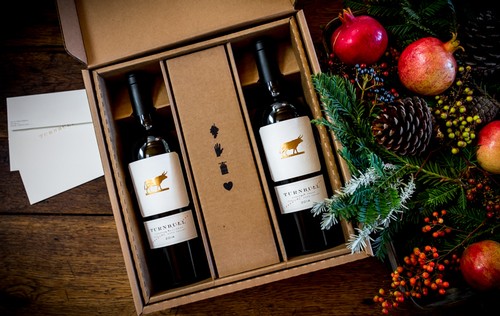 Leopoldina Two-Bottle Holiday Set
An ode to our Leopoldina Vineyard, this two-bottle set is a true fingerprint of our steepest hillside vineyard, and a showcase of some of our finest fruit: Cabernet Sauvignon and Cabernet Franc.
Enjoy each on their own, or pair with a savory feast - our tried and true culinary suggestion: an herb-infused roast.
As long as they are enjoyed in great company, this duo is sure to inspire any festive celebration on your horizon.
Ground shipping is included with purchase.
Members, please note: standard member pricing does not apply, as the listed price reflects a built-in discount.
On our 2014 Leopoldina Cabernet Sauvignon...
Elegant restraint sets a new course for this Napa Valley classic. A core of dark plum and pomegranate reduction lead the aromatic tempest. Engaging texture details dark hedonistic fruit on the horizon while closer notes of resin, roasted sage and crème de cassis rollick. Rich dark and red currants exalt.
93 + Points, Robert Parker
On our 2014 Leopoldina Cabernet Franc...
Arrestingly seductive aromatics pull you in to gorgeous dried rose petal, bright cherry, and raspberry notes. Complex bow rosin elements define the aromatic lift. Perfectly integrated, each element shines and sings in concert. The senses are pleased and enlightened from visual cues through to the racing finish of focus and purity.
95 Points, Robert Parker