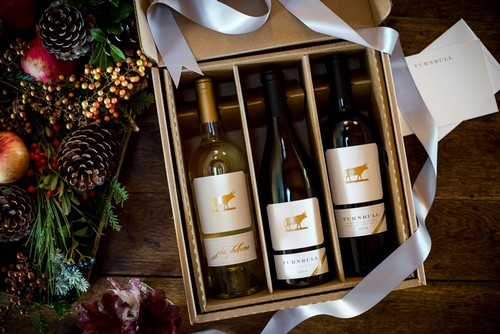 Mixed Three-Bottle Holiday Set
One Josephine Sauvignon Blanc, one Bonne Vivante Red Blend, and one Oakville Reserve Cabernet Sauvignon: three bottles that beautifully highlight the spectrum of our production.
Whether you are tasked with the challenge of entertaining an array of palates, or simply want to gift the "total package" to your consummate host, this three-bottle set checks all the boxes.
As with all of our Holiday Offerings, ground shipping is included with purchase.
Members, please note: standard member pricing does not apply, as the listed price reflects a built-in discount.
On our 2016 Josephine Sauvignon Blanc...
Delicate aromas of white stone fruit blossoms, passion fruit, and a hint of wet flint. On the palate, flavors of refreshing green apple and crisp pear, coupled with lemon zest and mineral flavors, adding complexity.
On our 2014 Bonne Vivante...
Rich and round, with lots of spice and black fruit followed by a creamy but driven finish. The result: blue fruit, silk, density, freshness, smooth, yum.
On our 2015 Oakville Reserve...
A dynamic opulence of dark fruit expression thrills the olfactory senses to reveal a taught, widening plane of lifted red fruit on the palate. Bewitching dark blue fruit tones drive an energetic finish of focused depth and length.