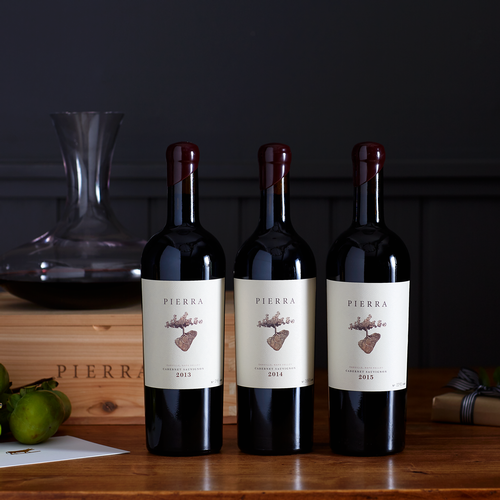 Pierra Library Vertical
2013, 2014, and 2015 Pierra Cabernet Sauvignon

The collector's vertical for the ages is here — three bottles of Pierra from three celebrated vintages, with individual scores ranging from 95 - 100 points.
Our Pierra Library Vertical is complete with the following:
∙one bottle of 2013 pierra cabernet sauvignon
∙one bottle of 2014 pierra cabernet sauvignon
∙one bottle of 2015 pierra cabernet sauvignon
∙one PIERRA wooden box

Our Pierra bottlings hail from a single vineyard block atop the impossibly steep, rocky peak of our Leopoldina Vineyard, and represent our most distinctly unique expression of time and place. We make this wine with intention and without compromise, pouring our heart and soul into making it the best. Simply put, this is an extraordinary wine.
Only 25 sets exist. Don't miss your opportunity to own this vertical of celebrated perfection.
Ground Shipping and an optional, complimentary gift note are included with all official Turnbull Gift Set purchases. Leave your note in the 'Gift Message' section in checkout.
a note on the wines
The 2013 bottling is an ethereal wine of incredible depth and purity, with enthralling aromatics and palate. It shows an astounding balance of freshness surrounded by dark power.
"This is my lifetime achievement award wine. It's the wine I'll take with me to the desert island." - Winemaker Peter Heitz
"Their most expensive wine is the 2013 Cabernet Sauvignon Pierra, which comes from this rocky vineyard in Oakville. Nearly black/purple in color, the wine has a singular quality, profound concentration and compelling notes of blueberries, blackberries, crushed rock, chocolate, a touch of espresso--just a smorgasbord of aromas. This is truly one of the great 2013s and a masterpiece of winemaking and viticulture. The wine should last for 30-50 years and is another legacy wine in what is a remarkable lineup of wines from Turnbull Wine Cellars in 2013..."
-Robert Parker, Robert Parker's Wine Advocate. 100 Points.
Enjoy notes of crushed dark fruit on stone that thrill every sense. A transcendent vertical arc of lift & light fused against streaks of dark strain and effort. Like the first sighting of land after the endless voyage, the landfall of expression leaves a lifting sense of joy.
"The 2014 Cabernet Sauvignon Pierra comes from rocky soils on their estate in Oakville. This is youthful and backward with sweet blackcurrant and black cherry fruit, licorice and earth. The wine almost seems like a barrel sample given its primary characteristics and youthfulness. Dense ruby purple, sweet fruit, ripe, well-integrated tannin and oak, this is a full-bodied wine to forget for another 5-6 years and drink over the following 25 years."
-Robert Parker, Robert Parker's Wine Advocate. 95 Points.
In keeping with our enduring commitment to honor this uniquely challenging terroir, 2015 Pierra weaves together a rich tapestry of nuance and depth, striking a balance between undeniable grit and exceptional purity.
"Displaying an inky purple-black color and a nose of warm red currants and red plums with a cassis and blueberry core with wafts of underbrush, moss and cedar chest, the 2015 Cabernet Sauvignon Pierra is full-bodied and very solidly structured with firm, fine-grained tannins and a lively line cutting through the youthful, pure black and red fruits, finishing on a lingering mineral note."
-Lisa Perrotti-Brown, Robert Parker's Wine Advocate. 97 points.